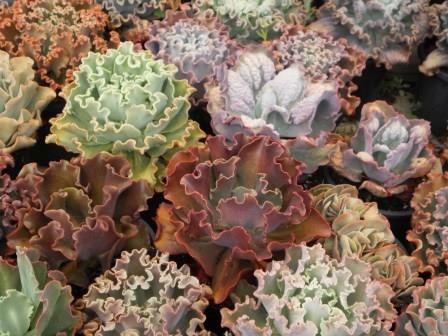 A website created by collectors; for collectors.
This genus was first erected in 1828. Distribution stretches from Texas (USA) down through Mexico where they are widespread, further down through Central America and on into South America as far south as Bolivia and Argentina.
Correctly identifying plants can be tricky even for the experienced collector. For more info on this check the 'Identify' page.
Website maintained and owned by Darby and Sue.
These plants are highly variable in their shape, colour, growth and habit. Ranging from large frilly and carunculated plants to small rosette forms, small shrubs and even those viewed as epiphytic.Hybridizing within this and other genera has been going on since the late 1800's and continues with vigour today.
The names we use on this site are either what they were originally imported as or what they have morphed into over the years with the later name becoming the most established. Where possible we have listed their original name.

We have retained the original species names. Many of the different forms are deserving of places within collections under their own name.
The 'Name Game'...is...'The Never Ending Story'.

A very general guide to the variability within the genera.
The smaller and large frilly plants can range in size starting around the 20cm through to over 60cm in ideal conditions. Colours more often than not change through the seasons. Becoming washed out and bleached during summer heat but developing their vibrant colours during the cooler seasons.




The carunculated plants also range in size from the smallest around 10cm through to the largest also possible of reaching 60cm diameter. And for those that don't know 'Carunculations' is the term for the odd growth that forms on the leaf. It is a naturally occurring phenomenon that has been bred into many of todays hybrids.




The rosettes range in size from just a few centimetres to around 30cm often prolifically offsetting though some remaining solitary.




The shrub type are generally around 25cm, some larger depending on where one is growing them.




And a couple of those which are often viewed as epiphytic...even though we grow them in pots.


Flowers define the genus so here's a small cross section.